We have slowly been moving into our new lab spaces over the last weeks. The official opening of the labs is scheduled for Friday 26 September, but we had a pre-opening "Open lab" for the new music students last week, and here are some of the pictures shot by Anne Cathrine Wesnes during the presentation.
Here I am telling the students a little about our new research group, and showing the main room:
Showing some realtime video analysis tools, including motion history images and motiongrams: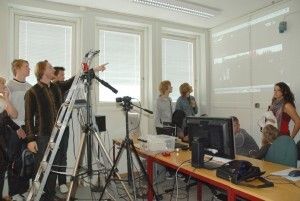 Demonstrating our new Optitrack motion capture system:
Kristian Nymoen showing the "self-playing piano", a Disklavier controlled by the movements of two Polhemus electromagnetic trackers.